Maybe I'm just taking the easy way out; but I think I'll do a Five Favorites instead of a Words of Wisdom for today. I promise promise promise WoW Wednesdays will return – they're just more work than Five Favorites posts and I'm 38.5 weeks pregnant. Speaking of which, I'm nesting like CRAZY right now and having a blast. Baby Boy's room is almost done, but though I have the materials to throw together all the last-minute touches, I'm not sure that I have the time to finish them since I go in for a C-section on Monday. That's in five days. FIVE. YAY!! Please pray for us!
1) Quite possibly my favorite store, or at least my favorite idea store. Paint, mounting hardware, cheap area rugs, more paint – what else is there? Because of Lowe's and Hobby Lobby, I now look at every item on the shelf in terms of spray paint and making it work for my house (I'm presently revamping the look of an old brass floor lamp to a "new" brushed nickel finish complete with a new shade and finial). And you can't go wrong with their slogan either – Never Stop Improving. Awesome whether you're a homeowner or a Catholic! The Lowe's tagline keeps me going in my home projects, but much more so when it comes to progressing in my relationship with God and betterment of my soul.
2) Wool dryer balls – a baby shower present from my aunts, I was totally confused as to A) what they were and B) what they were for… Stupefied, I had to ask and now I'm totally sold. Toss a few of these puppies in your dryer and they cut your dryer time by about 20%. Because they're reusable, there's no need to buy fabric softener or dryer sheets anymore AND if you're into using natural products, these will totally satisfy. I have 8 wool balls and I toss 'em all in with each load. Because they're light and soft, there's little to no additional noise with them being tossed about so much. Check them out! They're all over online in the regular retail world, but check out eBay or Etsy and you're sure to find them at a lower price. OR you could try making your own!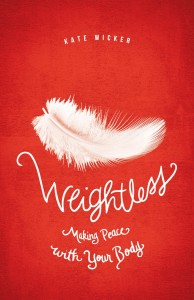 3) Weightless by Kate Wicker – There's no denying that we live in an image-is-everything culture. From our homes to our kids to ourselves, it seems like what's on the surface determines value; and it's this type of thinking that plagues a woman's self-esteem. Instead of founding her own self-worth on God's abundant love for her unique soul, there's a severe temptation for any woman to set herself on physical beauty, thinness, and looking young. Of course, the airbrushed images imposing this idea don't help because they're everywhere and hard to ignore. More ubiquitous, however, is evidence of God's mercy and love, though it requires that we pay attention to the millions of little (and big!) blessings in the day. Where is value? Beauty of the soul, wisdom, and grace accepted from God. As a person who has sorely struggled with maintaining a positive self-image for most of my life, I'm diving into this book that came highly recommended from good friends. It's Catholic, too! BONUS!
4) Yes, another store. Pottery Barn, et al are my favorite places for inspiration. Unless an item is on crazy clearance with free shipping, there's no temptation to make a purchase since their prices are just a bit high for me; AND, a good portion of the time, I like to look around to see if I can either make it myself or find an inexpensive replica. The PB look is unique, comfortable, and attractive, though (especially PB Kids!) and I've Pinned plenty of images to fuel my inspiration for our new little one's room.
5) I'll be honest, just typing "PB" for "Pottery Barn" made me think of peanut butter…which brings me to #5. Definitely not least among these is Skippy Natural Extra Crunch Peanut Butter – be still my heart and silence my stomach! A spoonful of this stuff with a tall glass of ice-cold skim to wash it down is just plain satisfying. Hunger? No mas. Thirst? Quenched. Guilt? NONE. Sure, there's sugar in it, but nothing fake and it's packed with protein!
And what about you? What's that something(s) you savor to make it through the day?? Delight in it and thank God for it!