From communication to sex and NFP to saintly inspiration, each one of these awesome married resources comes recommended from yours truly or another Catholic Wife I trust profoundly. More will be added gradually, but starting with this list will absolutely point you in the right direction.
– BOOKS –
Married Saints & Blesseds Over 200 accounts of saints and blesseds who achieved Heaven by the sacramental grace of marriage. From the Blessed Virgin Mary and St. Joseph to soon-to-be-Saints Louis and Zelie Martin, the parents of St. Therese. Draw an example of holiness catered to marriage from souls who now behold the Lamb.
The Temperament God Gave Your Spouse
by Art and Larraine Bennett
In no other kind of human relationship is knowledge of the temperaments — the fundamental personality traits, hard-wired into us at birth, that affect the way we respond to the world around us — so critical, and so fruitful, as in a Christian marriage. For it's only through mutual understanding of our own patterns of reaction, and those of our spouse, that we can motivate, nurture, respect, and above all, love each other with the selfless patience to which Christ calls us in the sacrament.
The Proper Care & Feeding of Husbands by Dr. Laura Schlessinger
Countless women call Dr. Laura, unhappy in their marriages and seemingly at a loss to understand the incredible power they have over their men to create the kind of home life they yearn for. Now, in The Proper Care and Feeding of Husbands, Dr. Laura shows you—with real-life examples and real-life solutions—how to wield that power to attain all the[…]joy, and peace you want in your life.
Three to Get Married by Fulton J. Sheen
One of the greatest and best-loved spokesmen for the Faith here sets out the Church's beautiful understanding of marriage in his trademark clear and entertaining style. Frankly and charitably, Sheen presents the causes of and solutions to common marital crises, and tells touching real-life stories of people whose lives were transformed through marriage. He emphasizes that our Blessed Lord is at the center of every successful and loving marriage. This is a perfect gift for engaged couples, or for married people as a fruitful occasion for self-examination.
The 5 Love Languages: The Secret to Love that Lasts
by Dr. Gary Chapman
Between busy schedules and long days, expressing love can fall by the wayside. We forget to compliment, to give gifts "just because," to linger in our embrace. The things that say "I love you" seem to either not get said or not get through. This is a book about saying it-and hearing it-clearly. No gimmicks. No psychoanalyzing. Just learning to express love in your spouse's language. With over 10 million copies sold, The 5 Love Languages® has transformed countless relationships. Its ideas are simple and conveyed with clarity and humor, making this book as practical as it is personable.
Good News About Sex & Marriage: Answers to Your Honest Questions About Catholic Teaching by Christopher West
The author, a diocesan director of marriage and family life, answers the questions about human sexuality and marriage that he always encounters in the numerous adult audiences he addresses. He provides thoughtful responses that present Catholic Church teaching in a fresh, thoroughly appealing, and convincing manner.
Holy Sex!: A Catholic Guide to Toe-Curling, Mind-Blowing, Infallible Loving
by Dr. Gregory Popcak
Common wisdom portrays sex and church to be at odds, yet studies show that Catholics have better sex, and more often. This witty, frank, and refreshingly orthodox book draws from the beautiful truths of Catholic teaching to show people of all faiths about rich and satisfying sexuality. Hailed by Christians across the spectrum from Christopher West and Janet E. Smith to John L. Allen, Jr., Holy Sex! includes dozens of questionnaires, quizzes, and valuable lessons from real-life stories.
Just Married: The Catholic Guide to Surviving and Thriving in the First Five Years of Marriage by Dr. Greg and Lisa Popcak
Recent research shows that now, more than ever, couples doubt their ability to create a marriage that will withstand the test of time. In their newest book, Catholic therapist Greg Popcak and family life coach Lisa Popcak offer their own story and a master plan for creating and sustaining a Catholic marriage that will last a lifetime. Readers will be heartened to see that despite the odds, every couple has the capacity to live happily ever after. They need only commit to learning the critical skills of the first five years of marriage, including: praying together, conflict resolution, stress management, and holy sex.
The Sinner's Guide to Natural Family Planning by Simcha Fisher
If you've tried Natural Family Planning and have discovered that your life is now awful-or if you feel judged or judgey, or if you trust NFP but your doctor doesn't, or if you're just trying to figure out how the heck to have a sex life that is holy but still human-you'll find comfort, encouragement, honesty, wit, and, most important, practical advice in The Sinner's Guide to NFP. Popular Catholic writer Simcha Fisher shows what it's really like to practice NFP, and how to achieve those fabled "marriage building" benefits.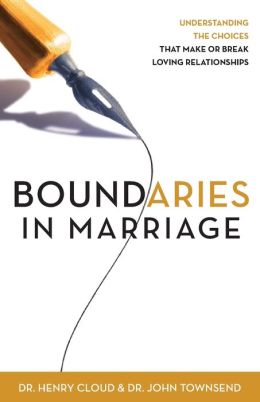 Boundaries in Marriage by Dr. Henry Cloud and Dr. John Townsend
Learn when to say yes and when to say no–to your spouse and to others–to make the most of your marriage Only when a husband and wife know and respect each other's needs, choices, and freedom can they give themselves freely and lovingly to one another. Boundaries are the "property lines" that define and protect husbands and wives as individuals. Once they are in place, a good marriage can become better, and a less-than-satisfying one can even be saved.
– OTHER RESOURCES –
Beloved: Finding Happiness in Marriage by the Augustine Institute
For Your Marriage (Catholic marriage resource center)
Dave Ramsey on Marriage & Money